Tested by the Universe? Choose Your Emotions Wisely!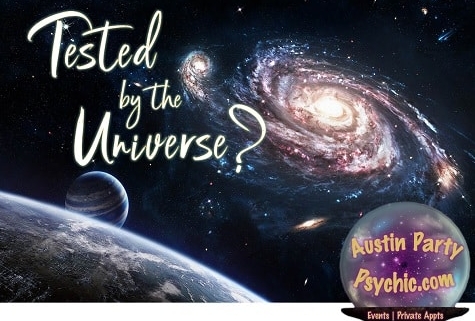 Someone much wiser than I once said, "The Universe doesn't always give you what you want; but it will provide what you need."
I was reminded of this axiom last week, when I was blindsided by an employer, who informed me (as I walked in the door) that if I wanted to be paid for my services, I would be expected to "cooperate" with a brand new set of rules — rules that would significantly decrease my income.
No, I was not happy about this arrangement. However, my angelic guidance was strong that day:  "YOU are the creator of your experience," the angels whispered, "not your employer. Decide now. What level of success do you want today?"
The Universe was testing me. How easy it would have been to succumb to anger and resentment! But the Universal Law of Attraction promises that our personal energies (thoughts and feelings) create our day-to-day experiences — every time!  Believe me when I say, anger is NOT the energy that a psychic wants to use to attract clients.
So I made up my mind to find the positive in the situation. I focused on gratitude for the opportunity to be of service to others. Once I cleared my negative emotional response, new clients started pouring in. Several of them were referrals from colleagues, who had enthusiastically received musical "harp healings" from me in the past. I was also able to receive a psychic consultation from a colleague — a consultation that pointed me toward an answer that had consistently eluded me in my own meditations!
None of these wonderful experiences would have occurred, if I'd made up my mind to hold a grudge against my employer. Wow. The Universe really did provide what I needed!
---

Adrienne, The Austin Party Psychic
Fun & Good Fortunes to Uplift Your Spirits
Adrienne brings light and joy to Texans as a psychic reader, an energy healer, and a bestselling author. The State Comptroller invited her to speak at Texas's inaugural Idea Fair; a State Senator hired her to make Tarot predictions at his holiday party; and local hospitals asked her to demonstrate the benefits of her "healing harp" in their neuro ICUs. Adrienne's greatest joy is to help her clients discover their intuitive gifts. She channels spiritual guidance from the Angelic Realm and Master Spirit Guides. Thanks to her work on a national psychic hotline, she has attracted clientele from coast to coast. Closer to home, Adrienne styles herself as "The Austin Party Psychic," introducing thousands of (skeptical) Texans to metaphysical principles in a playful, upbeat manner. She is now accepting new clients for private psychic readings. To learn more, click the link at the top right corner of this website.
https://austinpartypsychic.com/wp-content/uploads/2023/10/OPTIMIZED_475_321_Tested-by-Universe_DS-Felt-Ball.jpg
331
475
Adrienne, The Austin Party Psychic
https://austinpartypsychic.com/wp-content/uploads/2023/11/OPTIMIZED_ISOLATED_DS-Felt_Psychic-Logo_Crystal-Ball_NO-BASE.png
Adrienne, The Austin Party Psychic
2023-11-05 22:09:17
2023-11-19 04:17:19
Tested by the Universe? Choose Your Emotions Wisely!